2015 Trek Remedy [Pics and Video] With All New Suspension — The Ultimate Trail Bike
Offered in 27.5 and 29er with Re:Activ Racing Shock Technology, Boost 148 Rear Axle Hub
From Trek: "Remedy is the ultimate technical trail bike. Light frame, plush suspension, and precise handling all add up to a stellar ride that goes up, goes down, goes everywhere."
(Article and Pictures from Pinkbike.com
I was a pretty big fan of Trek's aluminum Remedy 29er
when I reviewed it back in September
of last year, with the bike surprising me with just how capable it is. Such was the chrome machine's adeptness that I didn't hesitate to put in 70km death marches with 9,000ft of climbing on a Saturday before heading to Whistler on Sunday. Sure, it wasn't the best at either task, and it isn't intended to be, but I can honestly say that it might have been the most fun for both jobs. You can't say that about many bikes, can you?

I just wished it was a bit lighter, and the unrepentant tech nerd in me pined for a carbon fiber version that, due to there already being a carbon 27.5'' wheeled Remedy at that time, was surely coming soon. Fast forward a bit further than I expected and I find myself in Brevard, North Carolina, to learn about exactly that. It might have taken longer than I expected, but there are all sorts of things to talk about here beyond the bike's new carbon frame that Trek says is over a full pound lighter, including an exciting partnership with auto racing legend Penske, and a new rear hub spacing that is sure to be controversial.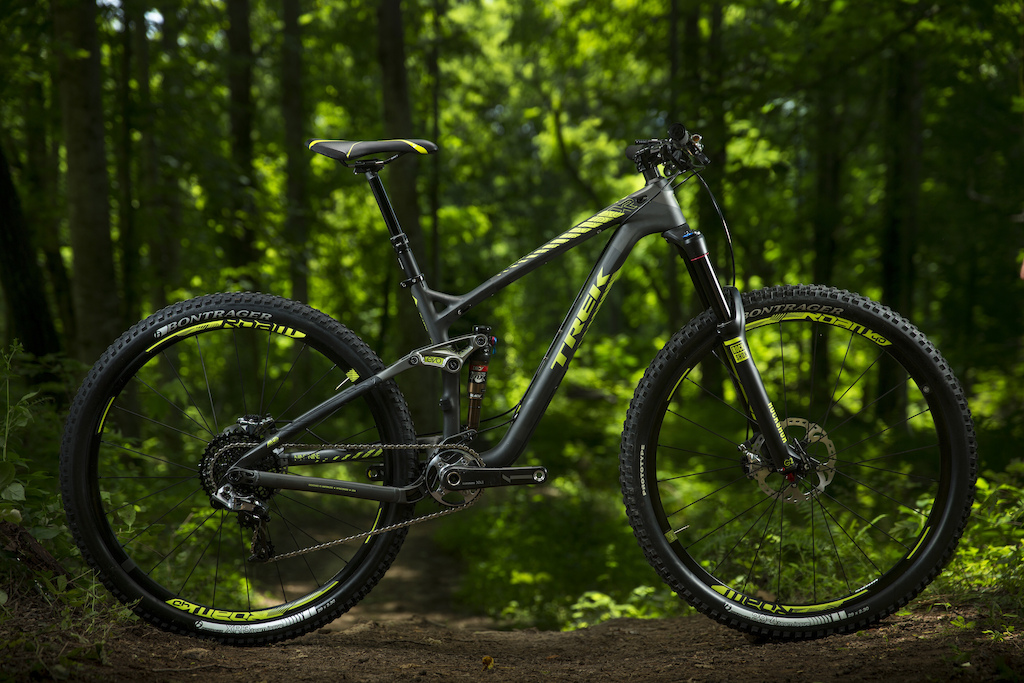 Similar lines, much more technology. There's a lot going on with the new 140mm travel Remedy 29 Carbon.
While the frame is entirely new, anyone familiar with Trek's suspension system will surely recognize the bike's rear end. It's all there: ABP Convert allows the dropout pivot to rotate concentrically around the axle, limiting the amount of rotation between the caliper and rotor. Want to run a 135mm QR wheel? No problem, just swap out the pivot hardware. Full Floater - the shock is attached to the rocker link at the top and an extension off of the front of the chain stay at the bottom - is also employed, and you'll find Trek's proprietary DRCV air spring system on its Float CTD shock. Those four letters stand for 'Dual Rate Control Valve', with two air chambers providing two different rates depending on where the shock is at in its stroke. Connecting the two chambers is a plunger, or valve, that opens the airway between the two at a predetermined point in the travel. The plunger is referred to as the control valve, or the 'CV' in DRCV. Trek's tapered E2 head tube, down tube protector, and G2 geometry are also utilized.
A New Axle Size
Here's one that's likely to get people talking, although it might not be in the manner that Trek is hoping for. Boost 148 refers to, as you might have guessed, 148mm spacing of the rear axle. Trek says that this wider spacing has allowed them to move the hub's spoke flanges out farther, which then gives the spokes a better bracing angle to make for a laterally stiffer wheel. How much stiffer? They told us that it's enough to bring the average priced 29er wheel into the same range as a 26'' or 27.5'' wheel, although exact figures on specific wheel model comparisons weren't presented to us. Moving the cassette outwards by a few millimeters does upset the bike's chain line, though, so all Boost 148 equipped bikes will come with a slightly different crank spider that compensates by also moving the 'ring outwards slightly to match the change at the rear of the bike - note that Q-factor is not affected, and the crank arms and chain ring haven't changed, only the spider. Why couldn't they just move the flanges out on a standard 142mm hub? It comes down to clearance issues, with the position of the spokes being limited by brake and drivetrain components.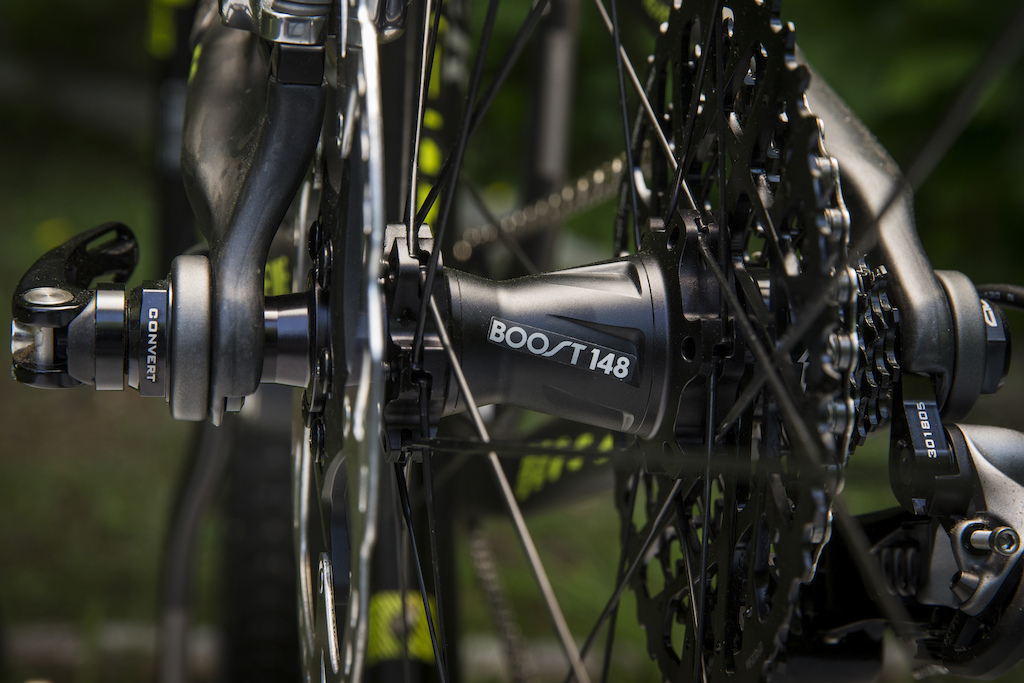 Sounds like an energy drink but is actually a new wider rear hub spacing that Trek says makes for a laterally stiffer overall package.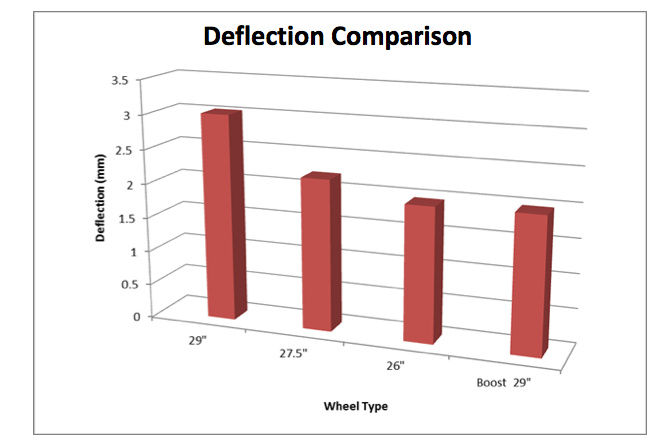 If there's one topic that gets riders shaking their heads, it's when a company introduces a new size that's different than the current norm. Bottom bracket, head tube, or axle related changes seem to bring out the haters in a way that maybe only Donald Sterling or Octomom are able to, and while I can certainly see where the frustration comes from, it's important to also remember that we're not running 1'' threaded headsets and road bike axle spacing due to companies pushing forward with their ideas. Having said that, there also comes a point when the advantages begin to diminish and it starts to go from asset to pain in the ass. What would you rather have: all bikes sporting a single seat post size, or all bikes sporting Giant's OverDrive 2 tapered fork steerer that goes from 1 1/2" at the bottom to 1 1/4" at the top? I know what I'd like to see, and it's likely the same as you, but where does Trek's Boost 148 slot into on that scale? Is it worth it?
| | |
| --- | --- |
| | Bottom bracket, head tube, or axle related changes seem to bring out the haters in a way that maybe only Donald Sterling or Octomom are able to, and while I can certainly see where the frustration comes from, it's important to also remember that we're not running 1'' threaded headsets and road bike axle spacing due to companies pushing forward with their ideas. |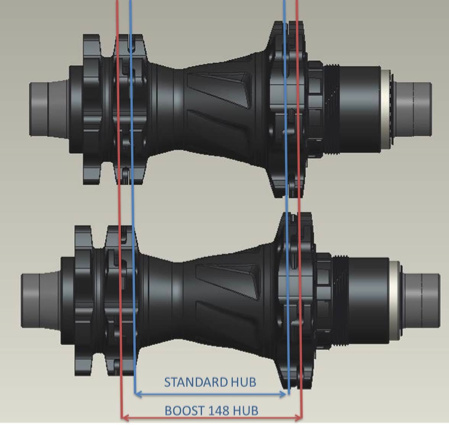 ''We wanted to have a wheel that's as stiff as what we were experiencing on a small-wheeled bike because that allows for better cornering, traction, and everything else,'' John Riley, Trek Mountain Bike Product Manager, explained to us. ''And we challenged our wheel team to come up with ways that would work with this style of wheel for mountain bike use. Boost 148 is a new direction for looking at the integration of the bike, the stiffness of the wheel, and how it interfaces with the frame.''
Are there other benefits besides the claim of added rigidity? Riley explained to us that it could also lead to far better tire clearance, allowing bikes to come stock from the factory with wider rubber, and also shorter chain stays and better clearance for large 'rings on a 1x drivetrain. The design of the Boost 148 hub was co-developed with SRAM, which makes sense given how axle spacing and drivetrain design are intertwined, and the layout is free for other manufacturers in the industry to use. It will be interesting to see whether or not that happens, and it's likely that the public response to Boost 148 will be the determining factor. For now, all Remedy 29ers will come with Boost 148 rear ends, but I expect it to pop up elsewhere in Trek's lineup as well. However, there is no sign of the entire industry adopting the same seat post size.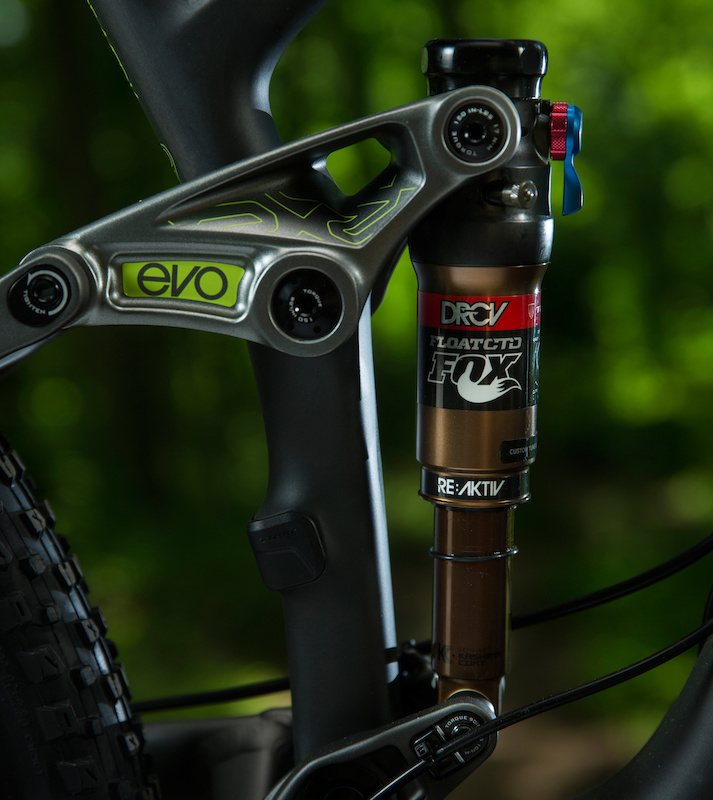 RE:aktiv Damper
The Remedy's FOX Float DRCV shock appears to be the same as last year, except for that small RE:aktiv decal stuck to it. What's that all about? You may have seen the
press release a few days ago
from Trek that talked about them working on new-to-mountain bike shock technology with the legendary Penske Racing, and while that blurb was heavy on the marketing, there is a real connection here between what Penske are putting inside the dampers that they provide for all sorts of auto racing applications and what is being used to control compression forces within the FOX shocks found on the new Fuel EX and Remedy platforms. And yes, the very same principles are being applied to the dampers that Penske builds for multiple Formula One teams, although a single one of those can cost more than what a Session 9.9 goes for. A lot more.
The RE:aktiv design is essentially Penske's regressive compression damper shrunk down and stuffed into the FOX Float CTD shock. It consists of a completely different main piston design that, in very simple terms, employs a spring loaded valve that can open to allow a lot of oil flow through the compression shim assembly. However, when the valve is closed the damper provides added low-speed compression for more efficient pedalling and, more importantly in my mind, more low-speed control that helps to keep the shock from pitching through its stroke when you're on the brakes or throwing your bodyweight around. This idea is to preserve the bike's handling.
The valve stays closed when the bike is stable, restricting oil flow and giving you a more stable chassis, until a pressure spike begins to open it. This typically happens when an impact of roughly three inches per second or faster occurs, which is actually a very minor hit. Penske worked quite hard at making sure that the system absolutely doesn't behave like a typical pressure release valve, though, and it was made very clear to me that one of the main goals of the RE:aktiv project was to create something that didn't behave anything like an on/off switch, but rather offered a more open and variable feel on the trail. Valve spring rate, valve plate design, and orifice size all came into play in the search for zero breakaway feel, and both FOX and Penske feel that they've absolutely nailed it. Part of this is also down to the velocity sensitive nature of the system: "
When the valve starts opening you'll get very quick relief because there's a lot of flow area exposed extremely quickly before it regains control. That's the regressive element that you're feeling,
'' Jose Gonzalez, Trek Suspension Engineer, explained to Pinkbike. ''
As the velocity increases, the spring tries to work against that force, but at some point the force overcomes the spring to allow for a lot of flow, so there's no harshness. At the same time, because you've got the flow area constantly varying depending on the force that's pushing on the spring, as well as the ports that the oil has to then flow through, you get high-speed resistance as the velocity increases.
''
So, with Trek touting the F1 connection, it bears explaining why this type of damper is used on a race car, and why they feel it makes a lot of sense on a mountain bike. After all, the two couldn't be more different, right? Sort of. Sure, one weighs under 14kg and the other nearly 700kg and with twice as many wheels, but both depend on mechanical grip while also being very sensitive to abrupt changes in the pitch of their respective chassis. Grab a handful of brake on your bike and watch how its suspension compresses, something that can cause its handling to go from predictable to pointy in the blink of an eye, and the same goes for race cars but with the added complication of having to deal with downforce being affected. Both require suspension that "stands up" in its stroke until it needs to allow the wheel to get out of the way of a bump in a hurry, but both also need their suspension to be supple enough to provide that all important grip that keeps you pointing in the right direction. Sure, our requirements might be a little less demanding than what Lewis Hamilton asks of his Mercedes through Suzuka's 130R at 300kph, but that doesn't mean that the same basic principles don't apply.


This is the very first prototype shock that Penske fitted with their regressive valving in-house. The piggyback is due to space constraints that saw them move the shock's IFP to a remote location in order to make room for the larger damper piston, something that was resolved on production shocks by some clever machining to create more room.
The yellow line on the graph on the left represents the added low-speed compression damping that the regressive system provides, but the important bit is how the line dips down after its high point, showing more oil flow through the compression assembly as the damper's shaft speed increases. Trek says that this is what causes the RE:aktiv shock to feel more natural and active than something with a blowoff valve that is intended to solely improve pedalling characteristics. The graph on the right shows how the system behaves in each of the three CTD modes - Climb, Trail, and Descend - with the yellow line representing the shock in Climb mode. Note how it dips down once shaft speed increases, but at a much higher force as required when in the firmest setting. This means that the bike should be much more useable when its shock is set to Climb mode, and that you won't get your teeth rattled out if you forget to flip it to the open setting before rolling into a rough downhill section. Last year's CTD shock without regressive valving would see the same yellow line continue to extend up and off of the page, meaning that it stays firm and less responsive.
FOX shouldn't be left out of the discussion, with the shock clearly still one of their Float CTD models despite the involvement of Penske. In fact, the whole project couldn't have happened without FOX due to Penske being a race oriented outfit that designs and manufactures components in relatively small quantities. You need four shocks for your F1 car by next week? Sure, just put your life savings on the counter, please. Looking for a few thousand for a run of production mountain bikes? Not so much. FOX, on the other hand, is able to manufacturer the shocks for the new Fuel EX 27.5 and Remedy 29 Carbon platforms while dropping in the regressive damper assembly that originated at Penske.
It's a lot to take in, especially when there's also a new 27.5'' wheeled Fuel EX to talk about, but those who want to learn more about the collaboration between Trek, FOX, and Penske can expect an in-depth analysis of the system and how it came to be within the next few days. I ended up spending quite a bit of time riding the new RE:aktiv unit, including doing some back-to-back testing against last year's standard shock on the new Fuel EX in order to decipher exactly how the system could benefit riders, and you'll be able to read my impressions on the new technology soon.